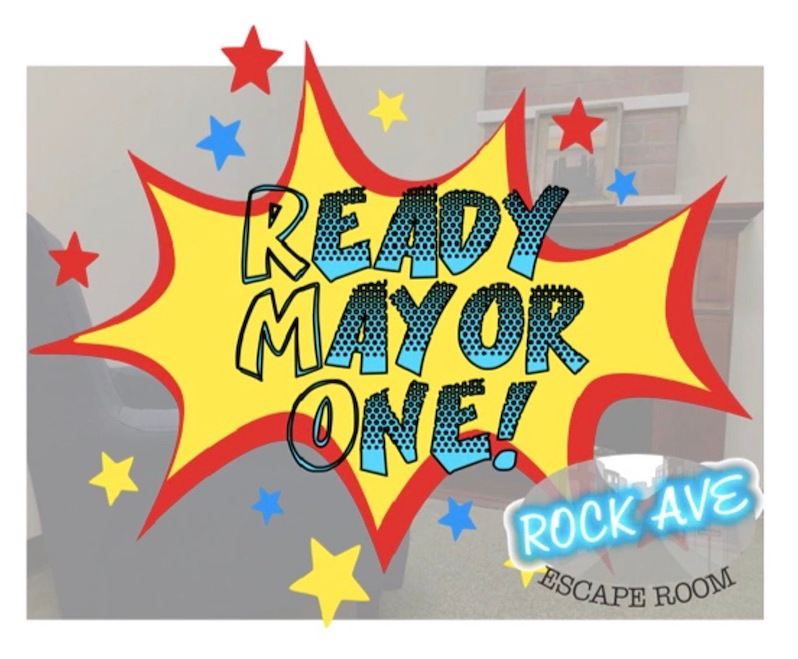 Important: This game will be played from your home via an internet connection. You are NOT playing on-site at Rock Ave Escape Room.
What you need:
An internet connection on a laptop, tablet, PC or smartphone
A Zoom account to connect to a Zoom meeting
Some friends/family

After you book you will be sent a confirmation email with all the details that you need. You can even share the link with friends/family that are somewhere else and you can all log in and play together.
The cost is $49.95 for up to two logins/connections. And $14.95 for each additional connection

How it works:
You will log in to the the website ReadyMayorOne.com with the credentials that we send you before the adventure begins.

From there you will get the link for the Zoom meeting where you will join and have audio/video access with your game master, Mayor Rob!

NOTE: There is a max number of 6 connections you can have to the Zoom meeting. You can have as many people as you want around your computer, but only 6 total connections! We STRONGLY recommend no more than 6 total players to keep the conversation reasonable
Mayor Rob will have a camera attached to him. There will also be panoramic views of each room, that you can rotates 360 degrees and tilt them up and down and zoom.

You will instruct the Mayor and guide him through the rooms, asking what to look at, telling him what to touch, and giving him the codes you solve to open the locks and other items.
NOTE: All times are Eastern Time, USA.